The public is invited to come to our free monthly Skywatch event at Northwest River Park in Chesapeake to take a look through our telescopes at planets, galaxies, star clusters, nebulae, and more! Come learn about the sky and about your place in the Universe. In addition we also hold a monthly event called Saturday "Sun" Day at the Elizabeth River Boat Landing and Park in Chesapeake that lets visitors see the Earth's closest star, the Sun. See our Events Calendar for scheduled dates and more information.
Other regular public events include Gardens Stars at the Norfolk Botanical Garden and Night Hike at Northwest River Park. During the height of the tourist season, we collaborate with the Virginia Beach Planetarium and the City of Virginia Beach to host Boardwalk Astronomy on the Virginia Beach boardwalk (near the 24th Street stage). We also do many other outreach events throughout the year at city parks, local schools and libraries. Organizations and members of the public can request that we attend their event by going to NASA's Night Sky Network website and filling out the request form. If you have any questions about scheduling an event please send an email to our Outreach Coordinator.
Help us fulfill our club motto of "Bringing Astronomy to the People of Hampton Roads" by supporting our outreach events and donating your time, resources, or both. Thank you!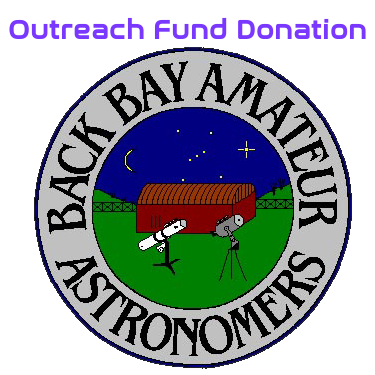 Donations to the Back Bay Amateur Astronomers are tax deductible as charitable donations on the donor's federal income tax return!